*Case Studies
'Without it I don't know how we would communicate effectively and it gives us a focus for communication. It also helps us by the fact that we are not in this alone!'
Phil Palmer, Cropwell Bishop Primary School, Nottingham
Japan UK Live case study: Cropwell Bishop Primary School and Komaki Elementary School
Cropwell Bishop Primary School in Nottinghamshire and Komaki Elementary School in Nagano are now in the ninth year of their exchange. We asked Phil Palmer, Head Teacher at Cropwell Bishop Primary and Hideko Harayama, who teaches at Komaki Elementary School to tell us more about why and how they use Japan UK Live to enhance the enduring bond between their schools.
In the beginning…
Our exchange came about through the efforts of Anne Rajakumar at Hockerill Anglo-European College in the UK (now at South Wolds Community School), the Nagano International Friendship Club and the Japan Society (formerly Japan 21). We began to use Japan UK Live as soon as the exchange began, on the advice of the Japan Society. The partnership has been running since the 2004/5 school year.
Joint projects and message exchanges
One of the key reasons Cropwell Bishop and Komaki use Japan UK Live is to allow the children at both schools to communicate regularly and freely. The children use a talkboard on their password-protected Project Page to write messages back and forth on a schedule agreed by teachers at both schools. The messages cover all sorts of themes, from school life to festivals to making slime! As the Japan Society translation team translate all messages, children at Cropwell Bishop are able to write in English and receive translated replies from their friends at Komaki, who write in their mother tongue. Hideko Harayama pointed out to us that whilst a language barrier is inevitable at some stage of a link, the translation facility on Japan UK Live takes away the stress of communicating and makes it easier for the link to endure.


Translated messages sent from children at Cropwell Bishop to children at Komaki Elementary
The schools have also embarked on various joint projects. The Project Page facility on Japan UK Live allows children and teachers to make their own 'webpages' and these are an ideal way for children to present their project work. Children at Cropwell Bishop and Komaki have also used the pages to introduce different elements of school life, with lots of colourful photos to set the scenes. As the two schools enjoy regular reciprocal visits, the Project Pages have helped children get to know a little about each other in advance. As with all Project Pages, each page is available in both English and Japanese.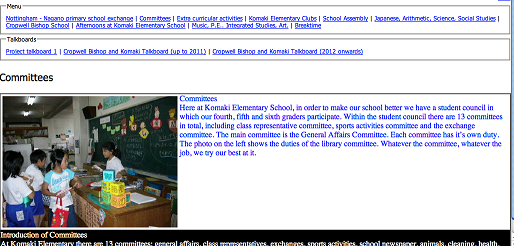 An English translation of part of a Project Page made by children at Komaki Elementary School
Why Japan UK Live?
'I have no doubt that introducing themselves and their country to their partner school, not to mention the pleasure the children gain from doing this, is helping the children develop a global perspective.' Hideko Harayama, Komaki Elementary School
Japan UK Live allows both schools to communicate effectively within the time-constraints that naturally occur in schools in any country. With the language barrier removed, children are able to develop friendships, share their school work and daily lives without any constraints and the talkboard facility enables them to experience the joy of receiving replies from their partners. As with any good link, the two schools communicate in other ways as well (video conferences, postal exchanges and actual visits as well as regular emails between the teachers, also translated by Japan Society) but the Japan UK Live activities are fundamental to their regular communication. The website is password-protected and moderated by Japan Society staff, who are always happy to provide advice and support to all users.
NB Please note that all Japan UK Live Project Pages are password-protected and not available for public viewing in order to protect the privacy of the individuals involved.